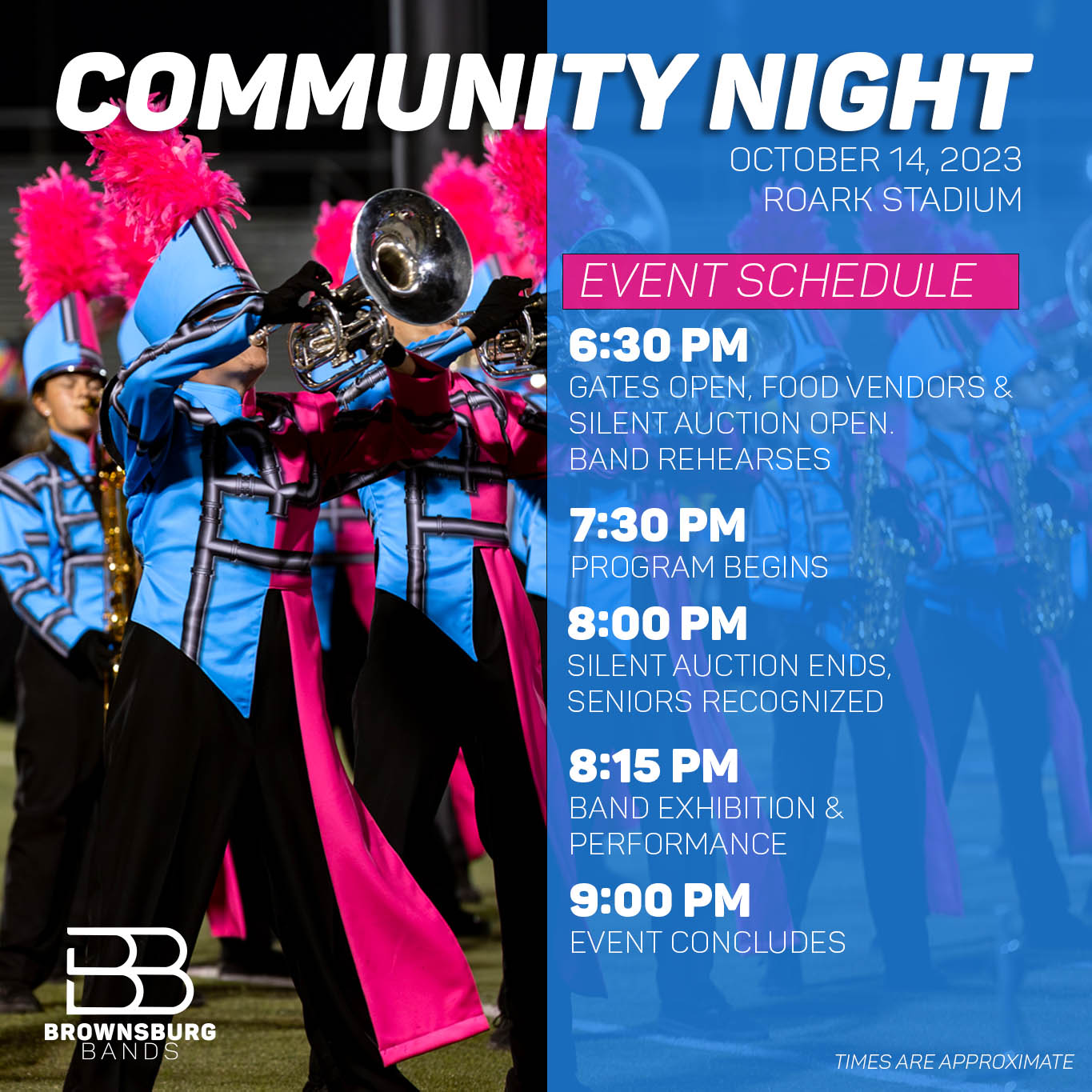 Community Night – October 14, 2023
Get ready for a night of music, fun and community spirit at the Brownsburg Bands Community Night on Saturday, October 14. This event promises something for everyone, from exciting performances to delicious food and a fantastic silent auction, all while supporting our talented young musicians.
Date: Saturday, October 14, 2023
Time: 6:30 pm – 9:00 pm
Location: Brownsburg High School Stadium
Admission: 🆓 Free! (Optional donation at entry)
Gates: Entrance available at the Southeast and Southwest corners of the stadium.
Parking: Ample parking available in the lot west of the stadium, at Brown Elementary School (north of the stadium), and along Odell Street on the east of the stadium. Handicapped parking is located in the lot west of the stadium. View event map here.
Silent Auction: We will have more than 100 prizes for you to bid on. All bidding takes place on a phone or computer, and you don't need to be present to bid or win. Some will be available for bidding on October 11, while others will be available on October 14 at Community Night. View the prizes and register at: https://qtego.us/qlink/brownsburgband More details on the Silent Auction here.
Vendors: Satisfy your taste buds with a variety of food and beverage vendors. Please note that some vendors accept CASH ONLY so be sure to come prepared.
Half Pot Raffle: Feeling lucky? Our band boosters will be selling tickets for our half-pot raffle, where one fortunate winner will take home half the earnings! The drawing will be held on December 16, 2023, and the winner will be announced on the band's Facebook page and website. Don't forget, these tickets are CASH ONLY! More information here.
Senior Recognition: At 8:00 pm, join us in celebrating our talented senior members of The Sound of Brownsburg. It's a heartfelt moment you won't want to miss.
Band Exhibition & Performance: Get an exclusive sneak peek behind the scenes as our directors share insights into this year's show, "Pipe Dreams." The band will showcase their hard work, performing sections of the show, and treating you to a full run-through of the show.
Mark your calendars and bring your friends and family along for a memorable night of music and community support. We can't wait to see you there! 🎵🎉
For updates and more information, stay connected with us on our Facebook page and website.
#BrownsburgBands #CommunityNight #MusicAndMore #PipeDreams