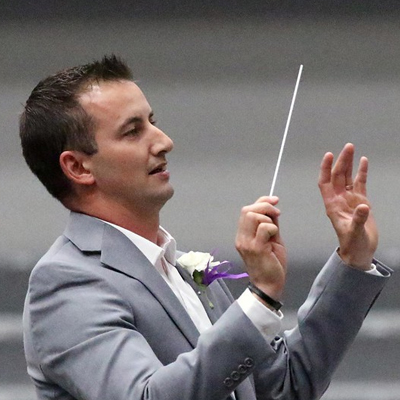 Chris Kaflik
Chris Kaflik currently serves as the Director of Bands at Brownsburg High School, in Brownsburg Indiana. Kaflik is responsible for guiding the Brownsburg Band students, their 6 band directors within the school district, and the talented marching band, percussion, and color guard staffs. Before coming to Brownsburg, he was an Assistant Director of Bands at Broken Arrow High School in Broken Arrow Oklahoma, and he was the Director of Bands and Orchestra at Northrop High School in Fort Wayne Indiana. Kaflik and his high school Co-Director team teach the 4 wind bands at Brownsburg High School, he directs Jazz 1, and he is the director of the Sound of Brownsburg Marching Band.
Under his direction, the Sound of Brownsburg has marched at the Macy's Day Parade (2021) and performed at Disney World's Magic Kingdom, in Orlando Florida. In 2022, the Sound of Brownsburg was named a Bands of America Grand National Finalist. The band has also been named Bands of America Regional finalists in Bowling Green, Toledo, Orlando, Louisville, and Indianapolis. They have been named Bands of America Regional Champions in Toledo Ohio, and they are consistent ISSMA State Finalists. In 2021, John Philip Sousa Foundation has presented the Sound of Brownsburg the prestigious Sudler Shield. The wind bands at Brownsburg consistently receive Gold Ratings at ISSMA contest. During his time at Broken Arrow High School, the marching band was consistently named Bands of America Regional and Champions and Bands of America Grand National Champions in 2015. Kaflik earned a Bachelor of Music Education degree at Ball State University. At Ball State he also studied Euphonium and Wind Conducting.
Kaflik performed with the Blue Devils Drum and Bugle Corps (2008-2010), and has served as a staff member at the Blue Stars, The Colts, The Madison Scouts, and Phantom Regiment. He is a proud graduate of Carmel High School.
The Yamaha Corporation of America recognized Kaflik in their inaugural class of Yamaha's "40 under 40" music educators who are making a difference by growing and strengthening their music programs. Kaflik is a national clinician and adjudicator for numerous state band organizations and Bands of America. Kaflik is an alumnus of the Delta Lambda Chapter of Phi Mu Alpha, and is an active member of IBA, IMEA, and NAfME.
Kaflik resides in Avon Indiana with his wife Noren, their two sons, Davison and Decker, and two dogs, Rocky and Rey.